Pic of the day
Everyday we make
posts on Instagram and facebook, follow us for Vanlife adventures.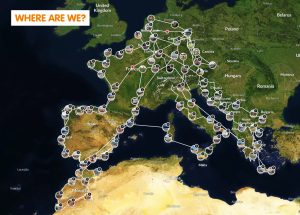 Hello we are Diana and Thomas. Would you like to come in contact with us, just send a mail.
Read more
Beach Clean Ups
On our trip we see the most beauty of nature, but also a lot of trash. We do beach clean ups regularly, look what we accomplished to help nature to recover.
Read more
Find our NOW Sticker?
We fly-posting Nomads-on-Wheels stickers on the best spots. Do you find our sticker? Make a selfie with it and send it to us to get featured!
Read more
NOW movie
Would you like to see some videos of our adventures and projects during our roadtrip?
Read more

Donate the project
The campervan is driving through Europe for the project Nomads on Wheels. Meeting other nomads. You can help us and donate to keep the Van rolling.
Read more